BrianZ's Racing Simulations Resource
Golden Sands Speedway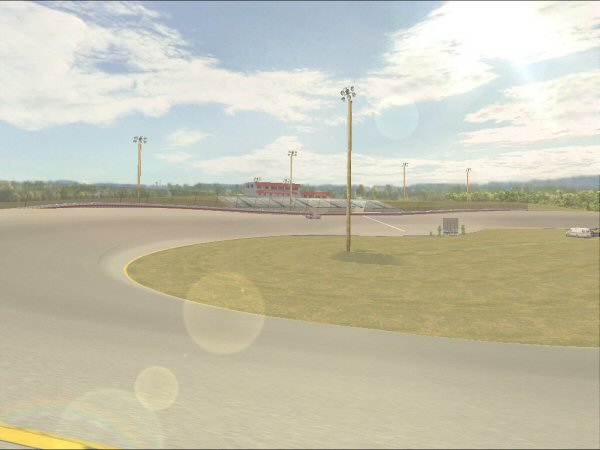 Download
N2003 Track (Version 2.0)
N2002 Track (Version 1.0)
N4 Track
rFactor Track
Mirrors
Installation
Track Info
Golden Sands Speedway is a 1/3 mile oval located between Plover and Wisconsin Rapids on Highway 54 in central Wisconsin. It is banked 16 degrees in the corners and 12 degrees on the straights. For more info about the track visit the Golden Sands Speedway Website.
About the Project
This was my first attempt to recreate a real track. It started in 2002 when I used an excel spreadsheet to calculate centerline locations and enter them into an xml file. Since then new tools such as Centerline and Sandbox have made it possible to do more things, much more easily. As a result there have been several major updates to the track over the years.
I tried to be as accurate as possible when making this track. I did this with satellite photos, the info provided on their website, all of the pictures of the track I could find, and finally my memory from being there.
Screenshots and Videos
Installation
For N2003
Delete any previous version of the track you installed in N2003.
Unzip to your tracks directory and enjoy.
For N4/N2002
For N4/N2002 you must have the night version installed before you can install the day version.
Night Version
Make a new folder in your tracks folder called golden_sands_night.
Unzip the zip file to this new folder.
Day Version
Make a new folder in your tracks folder called golden_sands.
Copy and paste all files from the golden_sands_night folder to the golden_sands folder.
Unzip the file to the golden_sands folder and overwrite any files when asked.
In the golden_sands folder rename the files golden_sands_night.dat and golden_sands_night.cam to golden_sands.dat and golden_sands.cam.
Updates in Version 2.0
Version 2.0 is updated for the 1.2.0.1 patch. The previous versions have a conflict with the 1.2.0.1 patch that causes cautions to come out whenever someone is on pit road. This update fixes that and a few other things. This version is not compatible with previous versions for online play.
List of changes:
Fixed pit road bug that threw a caution when someone was on pit road.
White line added to pit road to indicate where pit road speed limit starts and ends.
Pit road carts and crews now display on correct side of box for both sides of pit road.
New more realistic billboards.
Fixed bug that made some billboards appear to have a green tint in OpenGL.
New more realistic building behind spectators on front straight.
Victory Sign now made taller which is more realistic.
New more realistic slanted and painted catch fence.
Added new shadows.
Small AI changes to make them pit better and allow a full pace lap to be used for fields with less than 25 cars.
Invisible wall removed from infield.
Water barrels added where they are in the real track (Front straight wall and near light poles on back straight).
Added support for GNS, CTS, and PTA (Trans-Am/TPTCC).
Added collision properties to light poles on back straight.
Moved sun angle further west.
Pit Notes
The pit road is different from most and is difficult to navigate the first time if you don't know how it works. Here is a screenshot of the pit road entrance and exit in N2003. When you drive outside turn 2 to enter the pits there are 2 lanes. You enter on the right side. If you enter on the left you get black flagged for going the wrong way down the pits. You then drive to the end, turn left, come back the other way and exit on the right side. One other note on pit road, if you're pitting on the left side of pit road there is no wall between you and the crew. Just stay on the pavement and left of the white line and the crew will work as normal.
When driving into the pits if the yellow comes out and your spotter does not tell you it is ok to make your stop (this happens if the yellow comes out before you reach the white line where the pit road speed limit starts) pit road closes and you receive a black flag if you stop in your pit stall. To avoid the black flag just drive right through pit road without stopping. In version 2.0 this problem is a lot less likely to occur because the pit road speed limit line was moved closer to the track.
AI Notes
In version 2.0 the AI run with up to 43 cars without any problem when cautions and full pace lap are off. However the option for more than 20-25 cars is mainly intended for online play. They will also work with yellows and the full pace lap on if there are 25 cars or less running. Occasionally an AI car stops and backs traffic up under yellow but they usually get going again. More then 25 cars causes the AI to get backed up under caution too much. When this happens you won't get a restart. They also can't get off pit road together when the full pace lap is turned on with a field larger than 25.
Since AI cars cannot drive backwards on the track the AI enter pit road by leaving the track in turn 3 and driving behind the wall on the front straight. If you try to enter pit road this way you are penalized though. Also, occasionally the AI crash on pit road when there are a lot of cars there at the same time.
Brian Suber helped in the creation of the original lp files. All of the lp files have been updated since then. They have gotten better and are able to race pretty good now. I've done all I can for the AI but they can always use more work so if you're interested in helping make them even better contact me.
Thanks To
Fred Anderson for his xml to ptf converter.
Klaus Hörbrand for his WinMip 2 utility for creating mip files.
CenterLine, a great track editing utility by Don Price available at The US Pits.
Matt Todd for many good pictures of the track and allowing me to use two of them for the background pictures.
The Golden Sands Speedway Website for the info on the track dimensions and for more pictures.
Scott Hessey for creating the default setups for N2003.
Brian Suber for making the original lp files.
W3KN.com and The US Pits for mirroring the files.
Rocknjr for hosting online beta tests for the original version.
Papyrus for making the sim that makes it all possible.