BrianZ's Golf Course Design Resource
The Ridges Golf Course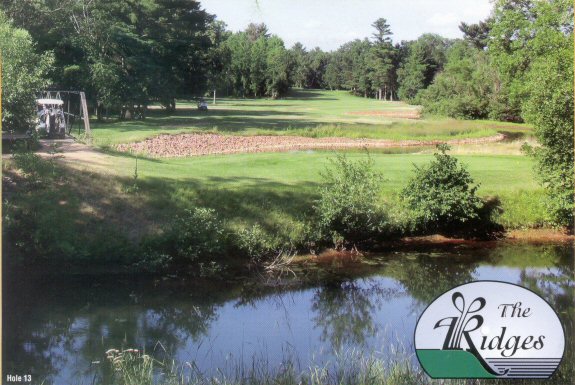 Download
Course
The Ridges Golf Course (128.23 MB)
Mirrors
Course Info
The Ridges Golf Course is a real course located in Wisconsin Rapids, WI. It is 6,289 yards long and plays to a par of 72. The front 9 was built in 1963 and the back 9 was added later. The site covers approximately 220 acres of land.
Screenshots and Videos
About This Rendition
Recommended normal course conditions –
This rendition is mostly true to the original course. I did create a fictional tee on about half the holes that makes the course longer to keep the hazards in play for the 300+ yard drives of WGC. When playing the "WGC" tee, the tee markers that are black are fictional tees while the ones that are blue are the real blue tee. You can play from the real blue tees the whole round or any of the other real tees by choosing them in the game options. I find it fun to occasionally take the driver or even all woods out of the bag and play from these shorter tees.
The other disclaimer to the realism of this is that over the past few years, some of the bunkers on the course were removed or made smaller. I think the way they were before made the course more interesting so I left them in for this rendition. I did include some of the newer changes they made too though such as the concrete cart paths. So in a way this rendition is sort of a hybrid of old and new.
There are five pins on each hole: three normal pins, one easy pin and one hard. I did this because three pins do not make for enough variety in my opinion. If you need a consistent pin placement for tournaments or multiple groups playing online, choose either the easy or hard pin.
About the Project
| | |
| --- | --- |
| Starting Date: | 1/10/11 |
| Ending Date: | 2/4/13 |
In July 2009 Rich of Red Chain Games made changes to the mouse swing code that made CPG/WGC on par with or better than PGA 2000 in my opinion and I finally began playing this game more than PGA 2000. This led to greater interest for me in creating a course for this game. I messed around in the designer for this game previously but never did anything serious. I found it hard to get used to using compared to the PGA 2000 architect. In the fall of 2010 a group of course designers and beta testers that were with CPG since its early days, including myself, begin getting together online for Friday night golf in WGC. With people to play the game with every week and seeing the new courses they were releasing, I now knew I was going to do a course for this game.
This project, like the version of this course for PGA 2000, started thanks to Chet Bzdak, the creator of the program Terrain Assist which allows the import of elevation data into the PGA 2000 and Tiger Woods architect programs. In January 2011 I inquired about the possibility of doing the opposite of what Terrain Assist does. That is getting the elevation data out of a PGA 2000 architect file and into a standard file format to import into WGC or other future course designers. Chet provided a process for doing this and there was new life for the elevation work I put into the PGA 2000 courses I did. That provided the spark for converting The Ridges to WGC.
I needed to retrace the shapes for the new game as they were not exportable from PGA 2000. I decided the best way to do this was in an external program. This potentially future proofs the process because now the shapes are in a standard format for possible import into future course designers. I used a program called QCad for this and saved the shapes in a CAD file. These did not import with great accuracy in WGC but since drawing shapes in WGC generally requires adjustments afterward anyway this did not add additional work.
About a month in I took a job and no longer had the time needed to work on it so I put the project on hold. In July of 2011 I picked it up again. In PGA 2000 you just create a flat surface for your water but in WGC you need to fill a hole with water. So I started by creating depth to the water bodies. This was pretty rough going as I struggled to learn how the WGC height editing tools differed from PGA 2000. At the time I wished I did these things in the PGA 2000 architect to prepare it for import. I'm glad I was forced to use the height tools in WGC though because it helped me learn how to use them.
Frustrated with trying to relearn things I already did easily in PGA 2000, the course went back on the shelf by the end of July and the project lost momentum again. I ended up going back to PGA 2000 and finishing off Peninsula State Park at the end of 2011.
I thought I was going to pick it up again in early 2012 but I developed abdominal/chest pressure and nausea in mid-February. A few weeks later Russ Frazier, one of the guys I played the game with online on Friday nights, died unexpectedly. During this time I did not want to work on course design much anymore. I found out my gallbladder was not functioning properly and I had surgery to remove it in August. The nausea stopped after this but the pressure feeling continues due to GERD, IBS or some other unknown condition. Luckily all tests for anything more serious are negative so far.
I did work on the course off and on in April and May of 2012 and managed to finish off the water bodies but I didn't get serious about it again until October 2012. Having developed some strategies to deal with my symptoms, I decided to try and power through it and get the course done before the end of the year. What helped with the motivation to finish was looking forward to playing it with my friends on our Friday night golf rounds. We did this 3 times during the process, at the end of November, beginning of January and beginning of February and I thank them for helping out and giving tips on what to do. During this period they were also a great help providing custom trees, objects, and textures and answering all of my questions. Particular thanks goes out to Joe Habiger for creating the White Pine and Red Pine 3D trees used on the course, Brian Silvernail for providing his excellent textures from his Bodega course that I used for the grass textures and Stephen Faupel for doing about a dozen or so custom objects that add a lot more realism to the course, including the clubhouse.
From December on I worked on it most evenings (when I didn't feel too sick) and weekends. I felt like I was almost done and that's what pushed me to keep going. It's a good thing I didn't know it was another 2 months away yet. I'm impatient so knowing it's a while off yet makes it harder to continue for me. The reason it took so long was because I still needed to learn how to do things with this editor and it involved a lot of time consuming trial and error. Just to name a few of these things: experimenting with blend masks, creating higher resolution textures, creating templates, creating moving objects, learning how to smooth and simplify bunkers, editing sounds…this list could go on forever. The hardest part was relearning how to do things I already knew how to do in PGA 2000 that were different in WGC. There were also some exciting new things to learn though. WGC has the capability of doing things PGA 2000 never did.
Finally at the end there were some performance issues with frame rate and the game locking up. I ended up removing most of the rocks I put around the water because the game just couldn't handle it. There are still some things I know I could do better. If you look close, some of the bunker elevations were over simplified and I was never totally happy with the bunker lip mask I used for blending. This leaves room for improvements in the next version of this course on a future game. I also learned what to do differently on future courses for this game.
Now that I somewhat know what I'm doing I don't expect future courses to take anywhere near as long. Having said that I can't work a regular 40 hour job and then come home and treat this like another 40 hour job the way I did for some time, at least not while I continue to deal with lingering symptoms of illness. I am hopeful that there is a future in getting paid to do computer golf course design work that allows me to cut hours from my regular job. Then I can work more on courses and still take time to relax and do other things.
Thanks To
Special thanks to –

Joe Habiger - Created the White Pine and Red Pine 3D Trees for this course.
Stephen Faupel - Created a dozen or so custom objects, including the clubhouse for this course.
B.J. Weworski - Created the manned golf cart objects.
Brian Silvernail - Provided his grass textures and houses from Bodega.
Jeff Helton - Provided custom trees and objects used on his past courses.

The above people and Sam Appleton, Tim Shaffer, and Jim Dickson for testing.
Chet Bzdak for creating a process for exporting elevation data from PGA 2000.
Dean Baker and Rich at Red Chain Games for making the game that makes this possible.
Finally this "cow pasture" is dedicated to the memory of Russ Frazier.