BrianZ's Golf Course Design Resource
Bull's Eye Country Club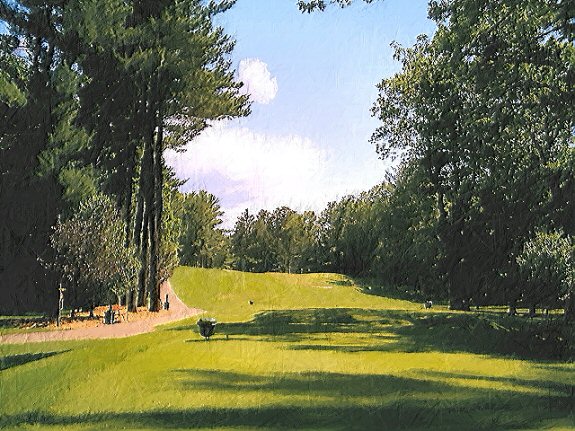 Download
Course
Bull's Eye Country Club (21.6 MB)
Libraries
Mirrors
Course Info
| | |
| --- | --- |
| Architect: | Leonard Macomber |
| Year Built: | 1927 |
| Website: | http://www.bullseyecc.com/ |

Bull's Eye Country Club is a real private course located in Wisconsin Rapids, WI. It plays as a par 72, 6,622 yards long.
History of the Course and the Architect
Screenshots
Notes About This Rendition
I began work on the plot of the course back in July 2004. By the end of the month I had finished laying out the holes and creating the major elevation changes. At that time I set it aside to work on Wisconsin River GC again. I began work on this course again in May 2005 and completed it in August 2005.
This is the first real course I have done that I haven't actually played in real life. This rendition is based mainly on satellite pictures, topo info and course pictures. The green contours are my own work because I didn't have good enough pictures to recreate them. The exception to this is 8 and 9. I was able to create more accurate green contours for these greens thanks to the TV coverage of the Channel 7 / K-tech Golf Invitational held there in July of 2004.
Typical tournament conditions –
| | |
| --- | --- |
| Rough: | Long |
| Wind: | Breezy |
| Greens: | Dry |
These conditions are based on the 2004 Channel 7 / K-tech Golf Invitational. In case you're interested, 5 under par won that 36 hole tournament, here are the rest of the results.
IMPORTANT NOTE: Some pins may play unfair in VERY DRY conditions. So play very dry conditions at YOUR OWN RISK and don't blame me if you make quintuple bogey on the x-th hole because I warned you!
The splash screen is a picture of the 15th hole tee shot.
The music is one of the stock music files from the original FPS: Golf game.
Thanks To
Those who created libraries used by this course –

Jörgen Ekroth - Woodford Park
Ken McHale - North American Woods
Unknown - August

Stefan and Walkinman for play testing.
DanO for his excellent green tutorials.
All the players who keep this community going. I hope you get as much enjoyment out of this course as I have.